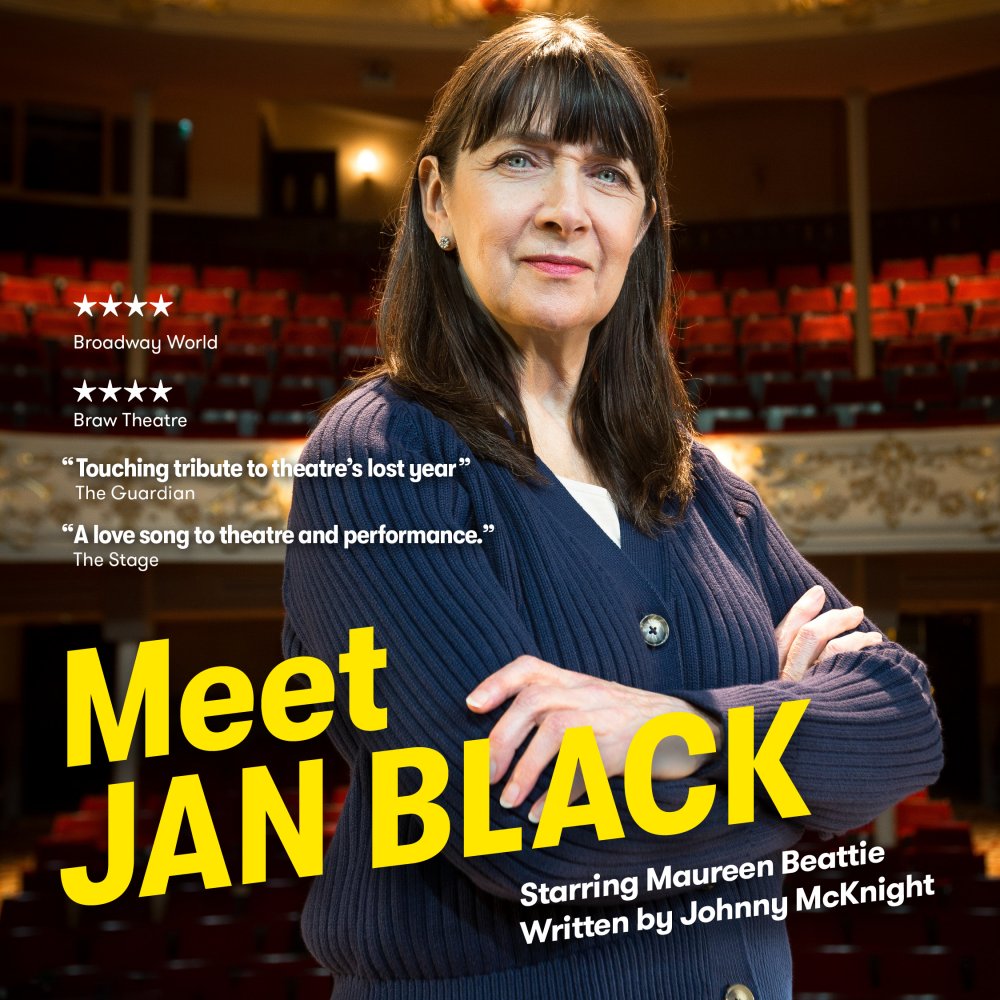 PAY WHAT YOU DECIDE (DONATION)
PLEASE NOTE – ONCE BOOKED AND YOU RECEIVE THE LINK, THIS PERFORMANCE CAN BE WATCHED AT A TIME WHICH SUITS YOU – THE TIME STATED IS OPTIONAL.
The Gaiety in association with Wonder Fools. Starring Maureen Beattie. Featuring: Ciara Brady, Helen Halpin, Anne Harcourt, Maureen McGuire, Marie McWilliams, Tricia Reynolds, Gavin Scott, Ron Swanson and Nick Wakeham.
**** – Broadway World
**** – Braw Theatre
"touching tribute to theatre's lost year" – The Guardian
"great entertainment deserving of an audience"- The Daily Record
"Meet Jan Black is a triumph for all involved and perfectly highlights our need for connection and shared experiences as both humans and as a theatre audience." – All Edinburgh Theatre
"a love song to theatre and performance." – The Stage
Jan's last year was a total horror show – and she had a corkscrew spiral perm in '89, so she knows a thing or two about heartache and misery. But no more. It's a New Year. A new Jan. She's got a fire in her belly and a new show she's desperate to rehearse. After a full year am-dram company The Gaiety Whirlers are back and ready to take to the stage. Only… Lockdown's still not been lifted, has it? But Jan is determined and channelling Queen: the SHOW must go on – she just has to navigate rehearsing over zoom, dealing with a most unwelcome participant, oh and the small matter of how the hell do you do a musical when some of the Whirlers don't even have 4G.
A new comedy that takes Year of the Rona and replaces it with Year of the Jan. It's a show for anyone who wanted to run down the street screaming NO every time we had another zoom call to make; for those who saw the families on Gogglebox more than their own; and for all us who want to put that last year behind them and get back in the theatre, to return to that sense of being together as a community. A hilarious show guaranteed to make us feel closer to each other than we have all of last year.
Are you ready to meet Jan Black?
Director: Jack Nurse
Associate Director / Producer: Robbie Gordon
Video Designer: Ellie Thompson
Sound Designer: Kevin Murray
Set and Costume Designer: Alisa Kalyanova
Lighting Designer: Benny Goodman
Assistant Lighting Designer: Lisa Kirk
Production Manager: Elle Taylor
Sound Engineer: Neil Dewar
Technical Manager: Fraser Emslie
Director of Photography/Cameras: Josh Macfarlane
Subtitler: Gregor Barclay
And special thanks to the Gaiety Team involved in this production.
£0.00 to £15.00