TICKETS: PRICES VARIABLE – PLEASE SEE INDIVIDUAL PERFORMANCES
GROUP OF 4 OFFER – £2 off per ticket when you buy 4 (£3.50 off premium seating at certain performances). Simply add tickets to basket – discount applied automatically at checkout.
You SHALL go to the panto!
Cinderella tries hard to live up to her late Mother's expectations, but when she is constantly bullied and treated like a servant in her own home, it's hard to be kind and good.
Her new 'family,' the McClatchys, have seen off her Dad and gone through the family fortune like a Lottery win. Her Stepmother Lady Loco McClatchy is a vile, vain and selfish woman – and most of that has rubbed off on her two spoiled daughters, Vera Verscratchy McLatchy and Annie Amanny McLatchy, with their love of all things designer. When the Palace announces that there is to be a Royal Ball for the returning Prince Louis, there is much excitement and the McLatchys decide that the Prince will be their next 'must have' accessory.
Cinderella doesn't have much time for frivolous things like royalty and designer handbags. She would much rather be trying to make a positive difference in the world, but fears things may never get any better. However, with her best pal Buttons and a magical Fairy Godmother on her side, the story could take an unexpected turn for the girl dressed in rags…
Following our 5-star reviewed 2022 production of Sleeping Beauty, we're delighted to welcome back writing team Ken Alexander and Fraser Boyle to put their original spin on one of the most magical and beloved fairytales of all time. Expect glorious spells and glass slippers, mice and mayhem, pumpkins and puns – all with the local flair and originality you've come to know and love from The Gaiety panto. It's going to be Bibbity Bobbity Braw.
There's no time to waste! Order your Cinderella tickets before the clock strikes midnight!
---
Click To Download The Programme
---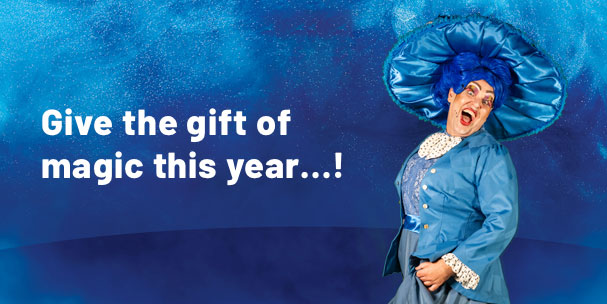 ---
BSL PERFORMANCES 
Friday 22nd December | 6.30PM
Wednesday 27th December | 2.00PM
AUDIO DESCRIBED PERFORMANCES
Friday 22nd December | 6.30PM
Wednesday 27th December | 2.00PM
CAPTIONED PERFORMANCES
Saturday 16th December | 2.00PM & 6.30PM
Thursday 4th January | 2.00PM & 6.30PM
RELAXED PERFORMANCES
Sunday 10th December | 12.ooPM
Tuesday 19th December | 6.30PM
---
Writers Fraser Boyle, who also plays the dame, and Ken Alexander, who also directs, deliver a Sleeping Beauty that chimes beautifully with the present, while harking back to the Gaiety's past as a centre for variety…The use of dialect, the jokes, the references and the songs are perfectly pitched for the venue and its audience
Ayr Gaiety once again shows it's not afraid to take risks in this bold and refreshing take on one of panto's most loved fairytales. This in-house production really pushes the boundaries of what's possible on Scotland's smaller stages, showcasing the very best Ayrshire patter with a healthy dollop of magic and romance for good measure… Ayr's Gaiety theatre will remain the one to watch for new and innovative ways to deliver a modern pantomime to audiences in Scotland.
Conventional in format but cleverly 'Scottified' and modernised by Fraser Boyle and Ken Alexander… clever material, stunning sets and outstanding performances.