Volunteers are the heart of The Gaiety; we could not run shows without them.
Our volunteers work with us in front of house, marketing and maintenance roles. They are a knowledgeable and intrinsic part of our team. Being a Gaiety volunteer means you are also indirectly supporting our creative learning team to engage local communities with the arts.
This year we are celebrating both the 120th anniversary of the Gaiety and the 10th anniversary of its saving and reopening.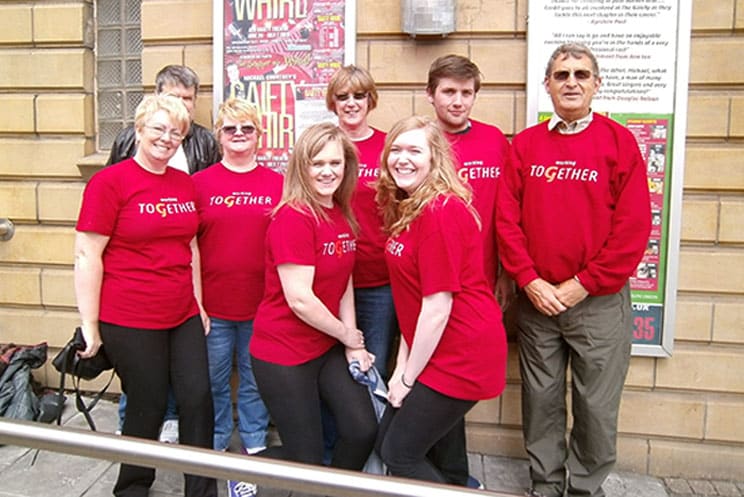 "Volunteering at the Gaiety gives me a real sense of satisfaction and community. Volunteering is a good way to meet new people and by helping our customers we also help the town."

Jesse (A Gaiety Volunteer)
Join us and help secure the long-term future of one of Scotland's most important cultural venues!
Ayr Gaiety Partnership is the charity and social enterprise that runs The Gaiety Theatre and leads Creative Engagement work across South Ayrshire and beyond. The Gaiety Theatre has been a key part of Ayr Town Centre since 1902 and remains the heart of cultural life in the town.
Volunteering is a great way to make new friends, gain important employable skills, and give something back to the community. 
If you are interested in becoming a volunteer, please email thomas.breckney@ayrgaiety.co.uk with your details:
Name
Address
Email
Telephone Number
The reason you wish to volunteer and relevant experience.
The AYR GAIETY PARTNERSHIP is an equal opportunities employer.
This policy communicates the commitment of the organisation to develop a diverse team that reflects the communities we serve. We believe that by celebrating diversity staff, members and volunteers will be able to benefit from a wider range of skills and deliver a better quality of work. The organisation will work to promote equality of opportunity and good working relations regardless of background.
Uniform
Black trousers/ jeans and black shoes.
Volunteers will be provided with a T-shirt that must be worn when on duty.
Information for Front of House Volunteers
Front-of-house volunteers must have good mobility as steps are involved. Full training will be given. You will be expected to come in an hour before shows to prepare and attended a pre-show meeting.
More Than a Theatre
Theatre is important to us, but by volunteering you are helping secure access to the arts and improving the quality of life for communities throughout Ayrshire.
Develop and promote the value and role of performing arts and artists, professional and amateur, local and national/international.
Engage people in performing arts that stimulate, educate, challenge and entertain.
Improve health and wellbeing through opportunities to engage in performing and other art forms.
Build employability skills through training, support and enterprise.